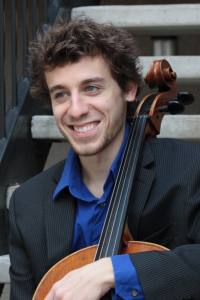 Cellist Ross Gasworth has performed and taught throughout the United States, as well as in Asia and Europe. A member of Trio Céleste, winners of the 2013 Beverly Hills Auditions and ensemble-in-residence at the Claire Trevor School of the Arts at University of California, Irvine, and at Chamber Music OC, Ross is based in Orange County, California. Ross began playing the cello at age three. He earned his Bachelor and Master of Music degrees from the Cleveland Institute of Music, where he studied with Richard Aaron and Stephen Geber. Other past teachers include Eugene Osadchy at the University of North Texas, and Michel Strauss at the Paris Conservatoire. As an orchestral musician, Ross has performed with the Houston Symphony, the Fort Worth Symphony, the New World Symphony, and as principal cellist with the Waco Symphony from 2008-2012. He has performed alongside principal players from the Vienna Philharmonic, Berlin Philharmonic, and Chicago Symphony. In 2011, Ross was selected to perform as principal cellist of the YouTube Symphony Orchestra under the direction of Michael Tilson-Thomas in Sydney, Australia. Subsequently, as a representative from the YouTube Symphony Orchestra, he performed at Google's Zeitgeist festival in London, England.
Major festival appearances have included the Artosphere Festival, Kneisel Hall Chamber Music Festival, Aspen Music Festival, and Pacific Music Festival. As a member of the Bancroft String Quartet, Ross performed and taught during a week-long residency at the South China University of Technology in Guangzhou, China. As an educator, Ross has been a teaching assistant at the University of North Texas, University of Illinois, and Cleveland Institute of Music. Additionally, he has taught at the Kneisel Hall Chamber Music Festival Young Musician's Program, and the Dallas Symphony Orchestra Young Strings Program. He maintains a private teaching studio as well. Ross has performed as a soloist with the Rochester Symphony, Birmingham-Bloomfield Symphony, Michigan Youth Arts Festival Orchestra, Detroit Symphony Civic Orchestra, and the UCI Symphony. He plays on a 2005 Whedbee cello.
Learn more at rossgasworth.com.