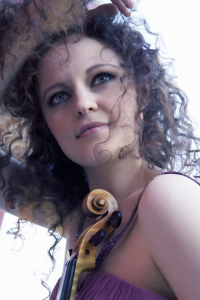 Iryna Krechkovsky is a prize-winning violinist with an international career in solo, chamber and orchestral performances. Celebrated for her tone, emotionality and precision, she has been featured at venues from Stern Auditorium at Carnegie Hall and Alice Tully Hall in New York, to Town Hall in Seattle, and The American Church, in Paris, France. She was a top prize winner at the Sorantin International Competition, the Canadian Music Competition, the Kocian International Violin Competition in Czech Republic, and most recently, winner of the 2012 Canada Council for the Arts Musical Instrument Bank Competition. She has performed as soloist with the Canadian Academy Chamber Orchestra, the Warren Philharmonic Orchestra, the Toronto Sinfonietta, and the Lviv National Symphony Orchestra of Ukraine, and appears alongside principals from the Orpheus Chamber Orchestra, Metropolitan Opera Orchestra and Orchestra of St. Luke's in regular appearances with the New York Women's Ensemble Orchestra. As a distinguished chamber artist, she has been invited to perform at the Montreal Chamber Music Festival, the San Angelo Piano Festival in Texas, Artosphere in Arkansas, the Stony Brook Faculty Recital Series in New York, and The Banff Centre in Canada, with artists including Denis Brott, Colin Carr, David Finckel, Gil Kalish, Alan Kay, Natalia Khoma, and Volodymyr Vynnytsky.
Born in Ukraine, Iryna Krechkovsky began playing violin at age six. She earned her Bachelor and Master of Music degrees from the Cleveland Institute of Music where she won the Dr. Jerome Gross Prize in Violin. She is currently completing her Doctor of Musical Arts degree at Stony Brook University in New York. Her teachers and mentors include David and Linda Cerone, Philip Setzer, Philippe Graffin, Pamela Frank, and Henk Guittart. Iryna Krechkovsky and her husband, pianist Kevin Kwan Loucks, are a renowned violin/piano duo and Winners of the prestigious 2012 Beverly Hills Auditions. They were also appointed co-music directors of the Los Angeles new music group Synchromy, and are founding members of Trio Céleste with cellist Ross Gasworth, recently appointed Artists-in-Residence at the Claire Trevor School of the Arts at the University of California, Irvine. She is also Founder and Artistic Director of Chamber Music | OC, one of the most dynamic classical music projects in the country dedicated to advancing the art of chamber music through performance, education, and community.
Iryna Krechkovsky performs on the 1689 Baumgartner Stradivarius violin on loan by the Canada Council for the Arts Music Instrument Bank.
Learn more at irynakrechkovsky.com.